Rikki's  Refuge is a unique place, with over 1,200 animals, supported by many  volunteers. Whether on-site or off, hands-on or behind the scenes, we welcome your talents to help keep Rikki's Refuge running smoothly and safely. Just call 540-854-0870 and leave a message on the appropriate extension, or email us at volunteers@rikkisrefuge.org!
Boot Campers  – for those stalwart folks who are willing to work for at least half a day at the Refuge, and on a regular basis.  You must pre-arrange this.
Bunny Boosters  – rake out rabbit area, keep shelters therein bedded as necessary
Cat Concierges  – our 600 + cats demand a lot!  Help  scoop litter trays and pick up the deposits of the outdoor poopers.  Help feed canned cat food as necessary.  Pet the friendly furries in cat run number 6.  Bed the cat houses for winter.
Delivery Drivers – collect contributed produce and deliver to the refuge for the critters;  solicit produce from your local farmer's market, broken bags of food from a  nearby store, etc.  Possibly transport  animals if needed.  Help us collect  pumpkins every fall.
Doggie Dynamos– clean up dog pens and walk dogs.  Bed dog houses in winter.
Fowl Friends  – clean up poultry areas; fill the ducks' and swan's water ponds
Goat Go-fers –  ditto with the goats
Grounds Gang  – mow, mow, mow the lawn and whack the weeds during the growing season.  Put gravel in the pens to keep the mud  down.  Perhaps plant a garden. Why go to  a gym – we have lots of activities to get that heart rate up!
Have-a-Hammers  – lots of repair work to be done – as big a project as replacing a trailer  floor, or just banging in loose nails as needed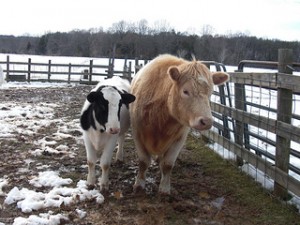 Horsey  Honchos – our  horses need cleaning up and cleaning up after.
Livestock Lovers – we have cows and other livestock as well.
Piggy  Partners – pigs need love too.  Help keep  their pens in shape and their shelters bedded in winter
Re-Tail – we sell items through the web and in thrift shops to raise funds to feed the animals.
Special Event  Specialists – represent Rikki's at various public events to raise awareness;  help out at our open houses and tours.  Most events are on weekends.
Super Scrubbers  – help wash pet food bowls, cat litter trays, storage totes, animal carriers  etc.  You will get wet.  Help us conquer "Mt. Dishmore",  as we call our sink full of animal bowls.
Etc. Experts  – we need fund raisers, technophiles, grant writers and other skills you might  have to share.