Lost Pet USA is a free online pet finding service. Go to to see the latest posts in your area. This program is supported by Rikki's Refuge and other shelters through
Bissell.
When you purchase pet products on bissell.com and enter the code ADOPT at checkout, a portion of your purchase will be donated to our rescue. What's more, every purchase goes towards an entry for us to win a $5,000 quarterly giveaway!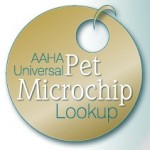 The AAHA has a tool to help look up any brand of microchip. If you find a dog or cat with a collar and chip tag, go here to reunite the owners!
In Virginia and many other states, laws require you to report a found animal to your local Animal Control, regardless of whether it has a collar or other identification. Check to see whether you can care for the animal during its stray period, or if you need to turn it over to ACO.
Identification tools that indicate ownership include but are not limited to:
Collars of any kind
Microchips
Tattoos on stomachs, legs, ears, gums
Ear tip or ear notch (usually feral cats)
Spray painted or animal marker paint – can be numbers or symbols
Hunting vests
These items in Virginia REQUIRE an extended holding period, so please keep them on when relinquishing to save an animal's life! As always, if you feel nervous or afraid of handling ANY animal, DO NOT try and find any ID; call your Animal Control and they should check for ID on intake.