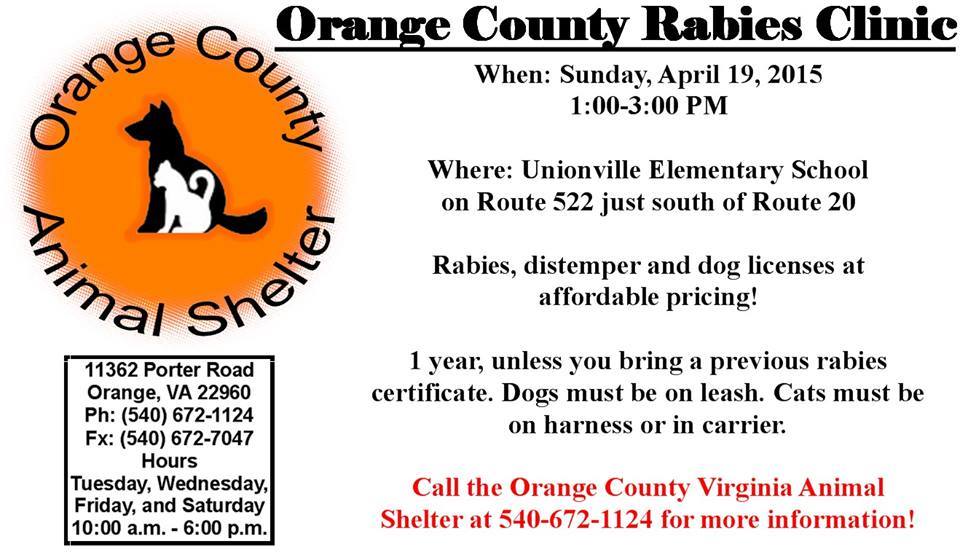 Courtesy share for ORANGE COUNTY VIRGINIA ANIMAL SHELTER!
ORANGE COUNTY RABIES CLINIC!
When: Sunday, April 19, 2015, 1:00-3:00 PM
Where: Unionville Elementary School on Route 522 just south of Route 20
Rabies, distemper and dog licenses at affordable pricing!
1 year, unless you bring a previous rabies certificate. Dogs must be on leash. Cats must be on harness or in carrier
Call the Orange County Virginia Animal Shelter at 540-672-1124 for more information!
Orange County Virginia Animal Shelter
Facebook: https://www.facebook.com/pages/Orange-County-Virginia-Animal-Shelter/247421595454188
Web: http://orangecountyva.gov/index.aspx?NID=158
Petfinder: http://awos.petfinder.com/shelters/orange.html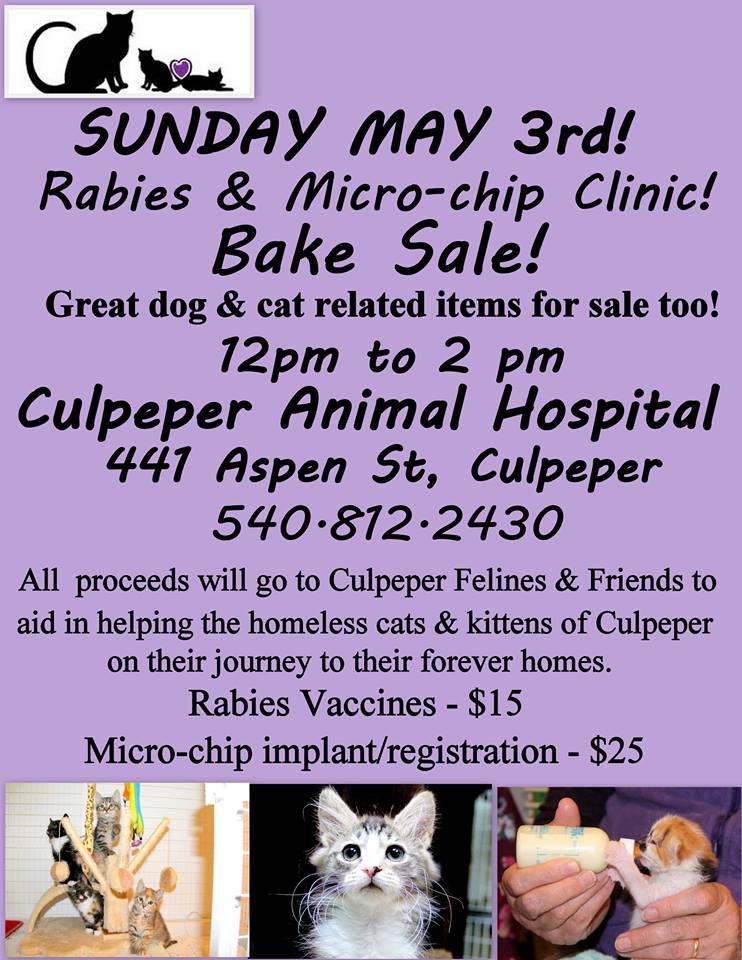 Courtesy share for Culpeper Felines & Friends​ and Culpeper Animal Hospital​:
Mark your calendars for May 3rd! Culpeper Felines & Friends will be holding a rabies vaccination and micro-chip clinic at the Culpeper Animal Hospital. Get that all important rabies vaccination for your dog or cat. And micro-chipping gives your pet a secure, reliable, and permanent identification; a micro-chipped pet that goes missing, has a substantially increased likelihood of being reunited with it's family. There will also be a yummy bake sale with lots of delectable homemade items and a fun sale of dog and cat related items like toys, costumes, treats, etc! Come on out and take care of that all important rabies shot and micro-chip for your pet, enjoy a couple of delicious bake goods, and shop for that fun item for your pet! Dogs on leashes please and cats in carriers. For more more information, CALL: 540.812.2430 or EMAIL: goodmews22@aol.com
Culpeper Animal Hospital web site: http://www.culpepervet.com/