Rikki's Refuge is raffling a motorcycle!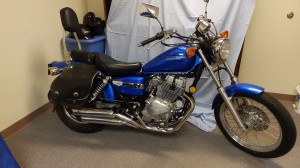 It's a BEAUTIFUL blue, 2009 Honda Rebel 250. It would make a great starter bike!  It has 3,450 miles on it.  It was test ridden in the parking lot of our thrift store, Re-Tail, by a motorcycle enthusiast who also happens to be a mechanic. He found nothing wrong with the bike. It runs great!  He did note that the exhaust pipes are after market, and are Jardines.
The bike comes with saddle bags and 2 helmets.
Tickets are only $5 each, or 6 for $25.  The bike can be seen, and tickets purchased, at Re-Tail Resale Shop, 3503 Lafayette Blvd., Fredericksburg, Va., 22408, during store hours (Monday through Saturday 10:00-6:00, and Sundays Noon – 5:00).
The drawing will be held at 12:00 noon on July 4, 2014. The winner does not need to be present to win.
To see the bike in action, check out the links below!
This one shows that all of the lights work:
The winner of the raffle will be responsible for taxes, tags, registration, and inspection of the motorcycle.