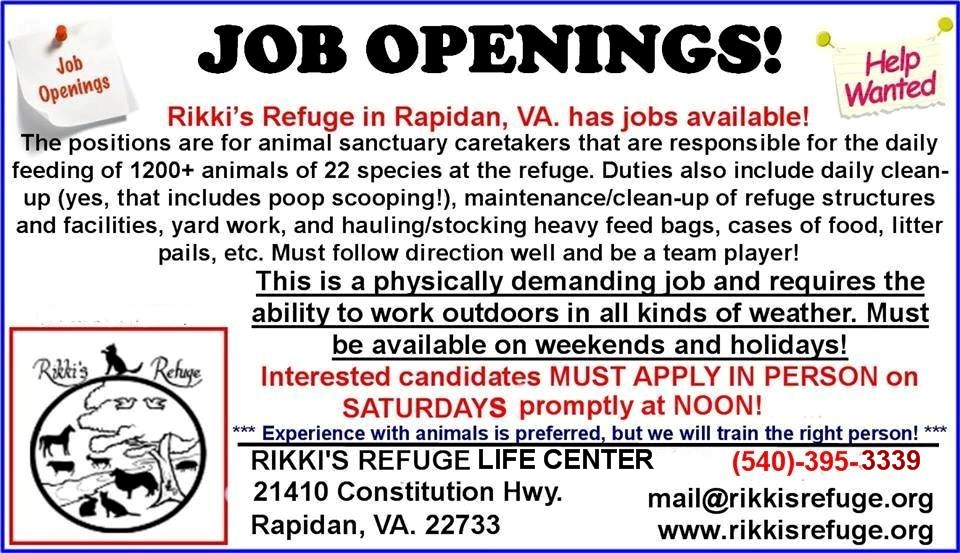 *** RIKKI'S REFUGE IS ACCEPTING JOB APPLICATIONS! ***
MUST APPLY IN PERSON ON SATURDAYS PROMPTLY AT NOON!
(Bring your resume and references with you!)
Rikki's Refuge in Rapidan, VA. has jobs available!
Compensation $9 an hour during training and $10 thereafter.
Full Time
The positions are for animal sanctuary caretakers that are responsible for the daily feeding of 1300+ animals of 22 species at the refuge. Duties also include daily clean-up (yes, that includes poop scooping!), maintenance/clean-up of refuge structures and facilities, yard work, and hauling/stocking heavy feed bags, cases of food, litter pails, etc. Must follow direction well and be a team player! This is a physically demanding job and requires the ability to work outdoors in all kinds of weather. Must be available on weekends and holidays!
Interested candidates MUST APPLY IN PERSON on SATURDAYS promptly at NOON at the RIKKI'S REFUGE LIFE CENTER, 21410 Constitution Hwy., Rapidan. VA. 22733. Experience with animals is preferred, but we will train the right person!
*************************
RIKKI'S REFUGE LIFE CENTER
Life Unlimited of Virginia, Inc.
21410 Constitution Hwy.
Rapidan, VA. 22733
Main 540-395-3534
*** FOR INTERVIEWS 540-395-3339 ***
mail@rikkisrefuge.org
http://www.rikkisrefuge.org/
https://www.facebook.com/RikkisRefuge
*************************
WE REALLY NEED PEOPLE WHO ARE EXPERIENCED WITH GIVING MEDICATIONS TO VARIOUS ANIMALS!
*************************
Rikki's Refuge in Orange County, Virginia, is a 400 acre, no-kill, all species peaceful sanctuary supported solely by donations of kind and loving individuals. The refuge is home to over 1300 animals of over 22 different species, including but not limited to cats, dogs, sheep, goats, rabbits, pigs, emus, chickens, ducks, geese, a chukar, peacocks, and more. It is owned and operated by Life Unlimited of Virginia, Inc. an approved not-for profit Virginia Corporation and IRS tax code 501(c)(3) corporation as determined by the IRS. Federal Tax-ID number 54~1911042. A financial statement is available upon written request from the State Office of Consumer Affairs.